NHM16 Series Hydraulic Motor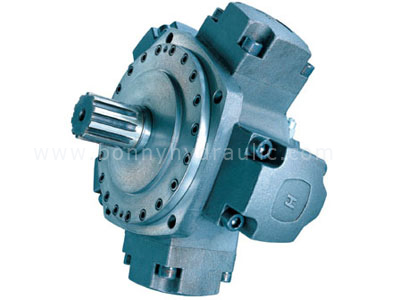 Model

NAM16 Series

Replace for

Hagglund NHM Series,

Denison, Intermot

Displacement

213-10019 ml/r

Torque

935-36667 N.m
NAM series bent axle connecting rod type motor has such characteristics as: high mechanical efficiency and good reliability, thus it can be widely applied in hydraulic and transmission systems of plastics machinery, light industrial machinery, heavy type metallurgical machinery, petroleum and coal mining machinery, lifting and transportation equipment, ship's deck machinery, geological prospecting equipments, etc.
Features:


As the product adopts eccentric crankshaft and five-piston structure with comparatively low frequency, it has low noise characteristic;


It has big startup torque, perfect stability at low speed, so it can stably operate at very low speed.


The patented plane compensation port plate has perfect reliability and almost no leakage. The piston bushing is sealed by seal ring, so it has comparatively high volume efficiency.


The crankshaft and the connecting rod are supported by roller, so it has very high mechanical efficiency;


The rotational direction is reversible, the output shaft allows endure certain radial and axial force;


It has comparatively high power mass ratio.
Type


Displacement
(ml/r)

Pressure(MPa)

Torque(N.m)

Speed Range

(r/min)

Weight
(kg)

Rated Pressure

Max Pressure

Rated Torque

Specific Torque
(N.m/MPa)

NAM16-1400

1413

25

32

5224

209

2-400

170

NAM16-1600

1648

20

25

4874

244

2-400

NAM16-1800

1815

20

25

5367

268

2-350

NAM16-2000

2035

18

22.5

5416

301

2-350

NAM16-2400

2267

16

20

5364

335

2-250
download:

For more product about NHM16 Series Hydraulic Motor, please download our catalogue or
contact us
!
Meanwhile, we can design and manufacture it on request.